From our Musical Director...

Meet our Musical Director...
An interview with Ian Clarke

When did your interest in music start, and did you prefer playing or singing?
I learned the piano from around 7, but I suppose crucial for me was joining the choir of St Matthew's Church in Northampton, and coming under the influence and tuition of successive Directors of Music there, Michael Nicholas and Stephen Cleobury: I always enjoyed both playing and singing, but I used to get very nervous of singing solos!

You have directed a whole range of musical groups ? do you have a favourite, or at least a favourite style?
I usually say that my favourite music is that which I'm rehearsing at the time. I love and respond to the serenity and depth of renaissance choral music, the clarity of expression of Mozart and Haydn, the emotional intensity of Beethoven and Brahms, Verdi, Strauss and Mahler, the Englishness of Vaughan Williams, the vibrancy of Stravinsky, the artistry and commitment of such composers as Britten and Tippett - the list is endless - but if I had to plump for a composer I couldn't do without, it would have to be J. S. Bach, for his amazing range, his spirituality, his universality. One of my earliest profound concert memories was a performance of the St Matthew Passion: I will never forget my feelings on hearing for the first time the phrase uttered by the centurion and those around him 'Truly this was the Son of God'.

What do you consider will be the particular challenges of directing WDCS?
Maintaining the high standards exemplified by your previous Directors, and perhaps helping the choir to expand its vocal and stylistic range so that different repertoires are tackled in a variety of styles. I should also like the choir to be able on occasions to sing some repertoire from memory: to dispense with the copy can be very liberating!

When you auditioned for the post of MD, you chose an arrangement of a nursery rhyme in the round for the warm-up, which could be seen as significant since we hope to recruit younger members! What would you say to persuade young adults to have a go at choral music?
Just try it, because so many people have reaped great and unexpected benefits. Being in a choir is fun, physically and spiritually engaging, good exercise for mind and body, a great way to socialise and meet a whole mix of people, an enjoyable and rewarding way of contributing to and being part of the local community.

What would be your perfect concert: location, artists, programme?
Impossible question to answer, as music is not a perfect art: we strive continuously, and if as a group of musicians we get somewhere close to achieving a real communication of the spirit behind the music to an audience, then we can be satisfied.

How do you like to spend your (presumably limited) spare time?
Walking, especially on Scottish mountains (Slioch was particularly fine last summer). Family time, making the most of daughters Lucy and Amy while they're still at home. Golf, though I have the rather high handicap of not being very good. Bridge. Reading. Armchair cricket and rugby, especially Ashes-winning series, Grand-slam seasons and World Cup success.

You have already been involved in both 'legs' of our French exchange. Could you comment on the value of this, both musically and socially, and do you have a view on future developments?
A valuable and enjoyable cultural exchange, and one I'd like to see develop with perhaps the focus of a more substantial work in which both choirs could participate, in addition to more informal (and some memorised?!) repertoire.

Is there anything that you would like WDCS to achieve within, say, five years?
Only in general terms, to continue to foster good relations with the local community, perhaps to forge links with schools and youth groups to encourage younger singers to join the 'Senior' choir at a later stage.

If you got diverted to a desert island on your way to Wolverhampton, what would you choose as your favourite piece of music, book and luxury item?
Bach (not surprisingly), probably Mass in B minor.
Assuming I've got the complete works of Shakespeare, I'd see if I was allowed a bound edition of the 12 books of Anthony Powell's 'Dance to the music of time', to divert, to amuse, and to remind me of how beautifully more modern English can be written: failing that, maybe 'Possession' by A. S. Byatt, which I've been meaning to re-read, or 'Earthly Powers' by Anthony Burgess, both extraordinary and profoundly affecting novels.
For my luxury, I think I'd have to have a set of golf clubs and inexhaustible supply of balls: not only would I win all my games - I'd never again be daunted by playing out of the sand!
---
Ian's comments on The St Matthew Passion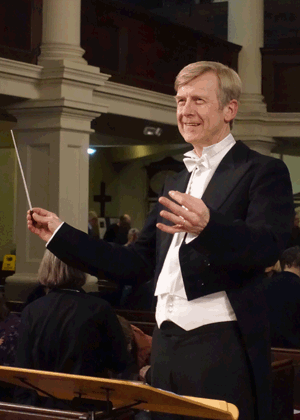 Good day, choir.
Well, what a beautiful day yesterday, perfect weather (which I barely experienced!), but the beauty extending into the quality of singing in the performance last night. The melodies have been ringing round my head continuously since, and I find myself almost conversing in recitative style!
What a work! One I've always wanted to conduct, and it was a privilege to perform it, and with such a wonderful mixture of forces. A great orchestra, with lovely solo players, an excellent continuo section, fabulous soloists, headed by the fantastic evangelist, and of course, Piran Legge, whose voice is such a treat.
And then of such importance is the choral part, those wonderful framing choruses setting the context, and then choirs playing the part of the groups in the dramatic narration.
You did so well, and gave a vivid account, committed, dramatic, both soulful and spiritual, I couldn't have asked for more, and the evening will live long in my memory.
Thank you so much for your part in making the evening such a success, and thanks too to John and Mike for their part in helping the narration come alive.
Have a wonderful Easter, everybody, and I look forward to seeing you next term, after a couple of weeks off!
Best of wishes
Ian
10th April 2017
---